Hey fellow NutShacks and welcome to the nutshack megathread 
Hey what's this show all about?
The Nutshack is an uncensored, adult animated comedy series. Set in the notorious Tenderloin district of San Francisco, The Nutshack focuses on the adventures of Phil, the streetwise San Francisco native, & his recently imported Filipino cousin, Jack. Together, in one of the worst neighborhoods ever, they encounter the craziest people and most surreal situations you can imagine. The motley crew of misfits that surround Phil and Jack - a Vietnamese transvestite, a stoner mechanic, a Mexican gangster, a mumbling bum, a gay wrestler, a midget pimp, a talking monkey, an overly intrusive landlord, and their womanizing uncle, Tito Dick - make this cartoon one the funniest animated shows to hit the airwaves.
The cast:
Jack: Our main lovable beast from the east, Jack is the straightman of the show, who came from the homeland to live with his cousin Phil, he is constantly amazed and befuddled by the wackiness american life. is straightedge (S1E7 "Dude..wheres my pot?") and possibly bisexual.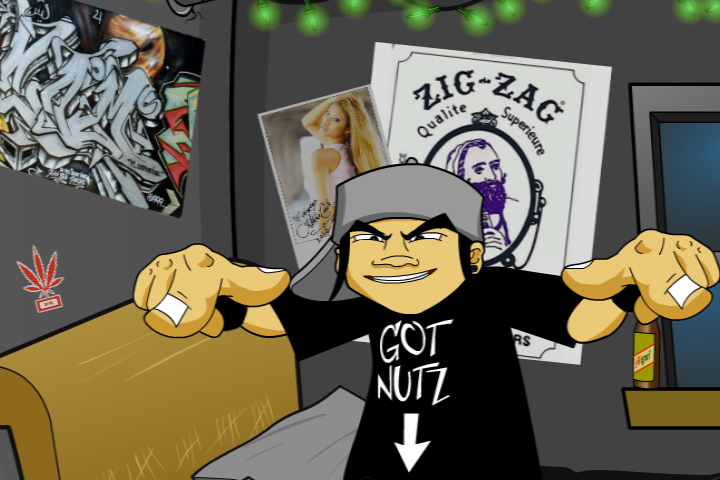 Phil: The wise talkin cousin of our main man Jack, Phil is a jokster and his antics get him and Jack into all sorts of hilarious hijinks. Is a fourth level cleric, but this only comes up in S1E4 "The Nuttening"
Horatio: Jack's loveable and foulmouthed pet, was hit by a car and had to be put back together by Jack, who "riced" him up like a car. Very lewd and raunchy, the scrappy doo for the new era.
THE DICKMAN, BABY!1
Goon favorite, uncle Tito Dick is a big dicked philipino bigshot, and uncle to Jack. he constantly gives him fatherly advice, but it's pretty twisted, and poor jack is too naive to do anything but take it at face value, anytime you see this man you know theres something funny about to happen.
Chita:  
  the most my shit character of the show, (next to Cherry Pie, but more on that later) pretty much exists just to show her titties, kind of brings down this show. but anyways she's the love interest, and sort of a "bitch" to our man Jack. Phil also wants to have sex with her and boy will he do everything to try to woo her!
More to come.
RULES.
1. do NOT talk about S1E10 "Tranny's Got Dick" We tried last thread and it ended up getting gassed. it's shitty, we know it! Just relax like our friend horat!
2. Fanart is OK, fee; free to post it!
3. no drama please, if you disagree with someones interpretation or criticism of the episode, be civil about it, or take it to PMs!
4. and as always, party on. fellow nut...shack.
_________________
Bitch in Heat





Posts

: 105


Join date

: 2014-04-30


Location

: detroit



_________________
Bitch in Heat





Posts

: 105


Join date

: 2014-04-30


Location

: detroit



Personally, I enjoyed season 2 episodes "Even Nuts Die." The growth Phil has over the course of the episode, having to deal with loss in such a traumatic way. Really inspiring you know? I always find myself watching that one whenever I'm in the mood for shackin' it up.  
_________________
Pure Maiden





Posts

: 338


Join date

: 2014-04-30



This cartoon seems like a an ethnic south park. Still not sure where to watch it besides youtube and their website???

I like the urban style character designs and I love the cursing, drinking,smoking and sex jokes. The characters are pretty original. FOB's, of which I'm very familiar with in the Bay Area. Not so familiar with the Vietnamese Tranvestites but still very funny...and weird. Seems like the show gets better with every episode.


_________________
Vile Troll





Posts

: 224


Join date

: 2014-04-30


Location

: At my house



I've never watched the NutShack
Evil Bitch





Posts

: 40


Join date

: 2014-04-30


Location

: Never letting you date me~





Similar topics
---
Permissions in this forum:
You
cannot
reply to topics in this forum